How to give & get help during COVID-19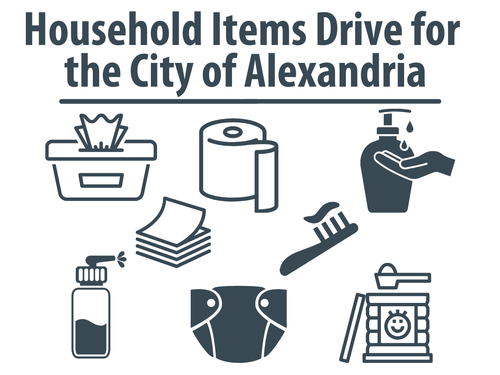 Volunteer or Access Items March 7-14
FBCA is partnering with the
The City of Alexandria Department
of Community & Human Services
to supply diapers & household items to families who lack basic necessities.
We will be conducting a collection drive
March 7-14.
You can drop your donations off anytime that week!
Sundays : You can find a donation box at the Sanctuary door if you are attending a worship service.
Monday-Saturday: During the week you will find a dropbox at the door (#3) off the circle driveway which is immediately to the left when you pull in the parking lot on the left (west side) of the building. The container will be right inside the door.
Needed items:
Diapers

All sizes welcome but especially in need of PAMPERS 3T & 4T

Baby Wipes
Household cleaning products
Hand soap
Household paper goods (toilet paper, paper towels, tissues, etc.)
Give to purchase items:
With many people losing their jobs, or for one reason or another not able to qualify for government assistance, FBCA has expanded our Benevolence Fund to financially assist people in our area who are in great need.
To donate please give online through the Benevolence Fund. You can also designate checks to the Benevolence Fund in your memo line.
If you are seeking financial assistance, reach out to our missions office by emailing Jesse, our missions associate.
See an example of the funds at work here!
Restaurants in Alexandria assemble boxes that feed one person 21 meals. This is a great opportunity for supporting families and businesses in Alexandria. Learn more about their work
here
!
If you are interested in volunteering on Wednesdays, Fridays, or for one of the other opportunities during the week click below to send them an email!
volunteer@casachirilagua.org
FBCA is honored to be part of a global mission movement taking the Gospel of Jesus Christ to the nations of the world.
Through the
International Mission Board
and
North American Mission Board
, FBCA actively partners with faithful servants of Jesus Christ, sharing the love of God in the global cities as well as some of the most difficult locations throughout the planet.
The four special offerings that FBCA partners with throughout the year are listed below & 100% of every dollar given goes to supporting each mission.
Lottie Moon Christmas Offering
Because of who God is and because you give, the
IMB
helps churches send missionaries to the billions who have yet to hear of Jesus' great love for them. Your gifts go to the work of reaching every nation, enabling missionaries around the globe to share the truth and hope found only in Jesus Christ.
2020 Goal: $210,000
Given to date: $$199,051.28
The
Dorothy Allport Network
was established in honor of one of our very own members!
Once again, this year we are giving to support
Feed My Starving Children
, a Christian nonprofit striving to end childhood hunger. In 2018, approximately 1 million children were fed for a year.
Our goal of
$10,000
will provide
48,486
meals
that will feed
113 children
for a year!
Collection Dates: July 19 - August 30th
You helped us reach our & exceed our 2020 goal by giving $14,000!
Thank you for your generosity!
Alma was a native Virginian known worldwide for her missions service and unswerving dedication to the cause of Christ. This offering provides funding for all Woman's Missionary Union of Virginia (WMUV) missions and ministries and makes possible other special ministries, outreach projects, and various initiatives. This year the support is allocated for:
70% of funds to WMUV-directed projects
30% of funds to BGAV-directed projects
All projects have a direct correlation to COVID-19 relief efforts
2020 Giving Goal: $16,000
Together, we reached & surpassed our goal! Total Given: $19,004
Trains and sends more than 5,000 missionaries involved in church planting and compassion ministries across the United States and Canada, often in places where the gospel is not welcome. Through the NAMB's Send Network, this offering helps Southern Baptists plant new churches. The Send Relief effort equips churches in addressing poverty, refugees, foster care, adoption, and human trafficking.
2020 Goal: $55,000
Together, we reached & surpassed our goal!
Total Given: $60,007
A giving effort that lasts all year...
The Cooperative Program (CP) of the Southern Baptist Convention
is one of the most dynamic and effective funding models propelling global missions in modern history. Through the CP, every participating church – no matter how large their annual budget or active membership – can be equally invested in a global movement to take the Gospel of Jesus Christ to the nations of the world. Launched in 1925, the effectiveness of CP has continued to be dependent upon individuals, churches, state conventions, and SBC entities working toward a common goal of sharing the gospel with every person on the planet.
The CP began as a five-year pledge campaign that, for the first time, included everything— the missions and ministries of all the state conventions as well as that of the Southern Baptist Convention. Thus, a God-given partnership of missions support was conceived. FBCA is strongly committed to the Cooperative Program which supports missionaries both in North America and throughout the world. Currently, 12 percent of our church budget is designated for the Cooperative Program. By participating with other Southern Baptist Churches we extend our reach to the ends of the earth.
All donations are tax-deductible made to all offerings.
Signup to talk with the church leaders and missionaries in Linz. You'll hear about their work there, including their outreach ministry to refugees.
Let's get moving!
Mission Trip Interest Form
Over the past few years FBCA has sent more than 160 individuals annually to
Central Asia, Eastern Europe, Dominica, Hawaii, and elsewhere. We do this as we
seek to be salt and light in our city, country, and throughout the world, with a
strategic emphasis on Central Asia and Muslim Background People groups.

Interested? We would love to hear from you! Fill out the form below to get started.
* If you would like to contribute to a scholarship for one of our mission trips, the funds will be used to help someone
with a desire to go and serve who does not have the financial resources available. Donations are tax‐deductible.
You may give to a mission trip, a specific participant on a mission trip, or a scholarship for the trips in general.


Volunteer Opportunities
& Local Partnerships
For the Nations DC is a nonprofit full time ESL program serving English language learners and their children in the Washington, DC, area.
FTN teaches classes 4 days a week and engages with students outside of class as well. Time spent together outside of class can be anything from sharing a meal or helping them navigate life in the United States. We unashamedly proclaim the gospel as the only hope of healing for the brokeness we all experience.
English as a Second Language Classes
FBCA is partnering with Casa Chirilagua in teaching ESL classes. Volunteer teachers are needed!
For information about teaching contact Matthew: matthew@casachirilagua.org.
Volunteering is largely virtual at this time.
Email Matthew at Casa Chirilagua
TC Williams International Academy
Through this high school evangelistic outreach, FBCA impacts TC Williams students through relationship-building, witness, mentoring, and fun.
On Tuesday nights FBCA hosts a Bible Study, dinner, and fellowship for students who want to find out more about Jesus. Contact Jesse for more information about this local opportunity to have global impact.
The Refugee Care Team of FBCA leads in witness and ministry to Refugees in Alexandria by the Name, Spirit, and Word of Jesus by assisting families as the move to the D.C. area. From helping with housing, to being a friend in a time of transition. There's a place for everyone in this ministry!